The San Francisco market started off slowly in January, but took a turn for the better during the latter part of Q1. Mortgage rates climbed over the month of February and then reversed course during the month of March, giving buyers a chance to lock in jumbo 30 year mortgages at rates well under 6%. Given the higher cost to finance, buyers are being more discerning and selective. Well-located properties that are in move-in condition are selling quickly, often with multiple offers. Properties that have any significant objections: a lack of parking or outdoor space, high HOA dues, or challenging locations, are languishing on the market. These opportunities are being picked over by buyers who are determined to get everything they want from a purchase.
Inventory is still at record lows, although overall supply did increase steadily over the first quarter, as seen in the graph below.
Months Supply of Inventory, San Francisco County (1-4 units)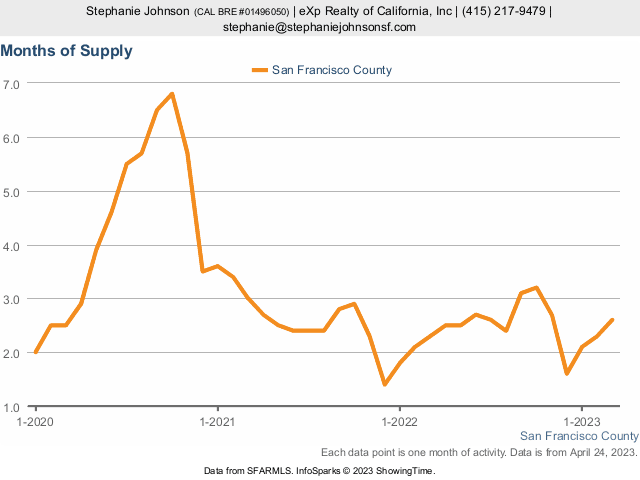 San Francisco's median price also climbed during the first quarter to $1,325,000 at the end of March. Median price is down 11.7% from this time last year.
Median Sales Price, San Francisco County (1-4 units)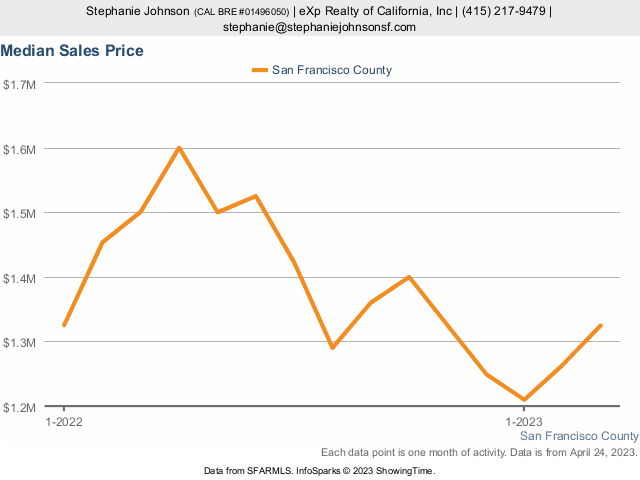 The upward trend in prices is also reflected in the average price per square foot for the City. As of the end of Q1 the average was $1012/sf. Despite the upward movement, per square foot prices are still down 14.7% from last year's numbers.
Average Price Per Square Foot, San Francisco County (1-4 Units)