The San Francisco market peaked in April of this year and has slumped slightly during the 3rd quarter. A steady rise in mortgage rates has left buyers facing the highest borrowing costs in over 22 years. And the recent push of rates up over 7% has further cooled buyer demand, especially for those who have minimal cash to offset higher loan costs. In September, the Fed opted to hold rates steady, but left the door open to future hikes if the inflation data worsens.
As always, the health and pace of the real estate market is inextricably tied to interest rates and the forces of supply and demand. We often see a burst of new inventory in September, kicking off the fall market. This year was no different and September brought fresh listings for buyers to consider. But the sharp rise in inventory compared with the tighter spring months, combined with higher rates, will likely mean further price erosion over Q4 of this year. September was predictive of the trend - last month, there were 947 new listings in SF and only 413 sales, pushing the months supply of inventory to 4 months, the highest it has been in almost 3 years.
Overall, San Francisco is currently "on sale," and for buyers with deep pockets, opportunities abound to buy at some of the lowest prices in years. Rates continued to rise this week, meaning Q4 should bring further opportunities for able buyers to "buy the dip." That said, homes that are move-in ready, in fantastic locations and check all of the boxes for buyers will fare far better than homes with big objections. At this point in the year, prospective sellers should be eyeing a 2024 listing date to maximize their sale price. The spring market will be here before we know it!
Looking out further into the future, SF is poised once again to be the nation's tech hotbed, with numerous AI businesses setting up shop in the City. Investors are beginning to scoop up downtown condos and commercial buildings at deep discounts with an eye toward future appreciation in these areas, currently suffering massive office vacancies and tough street conditions.
For more specific data on your neighborhood, or for a market evaluation of your home, please don't hesitate to reach out - I am here to help you!
Average Price Per Square Foot, San Francisco County (1-4 units)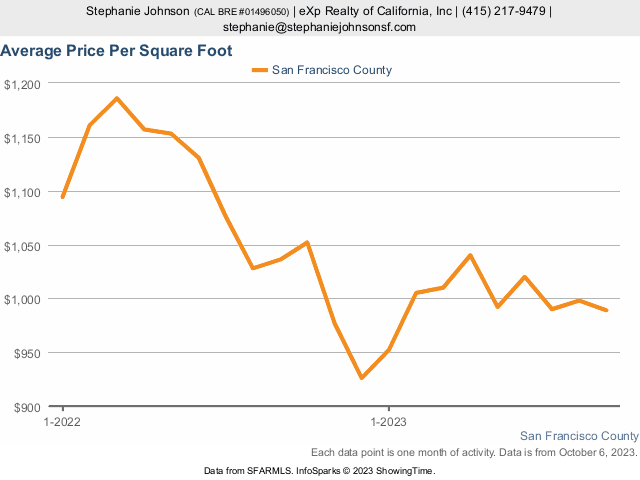 New Listings, San Francisco County (1-4 units)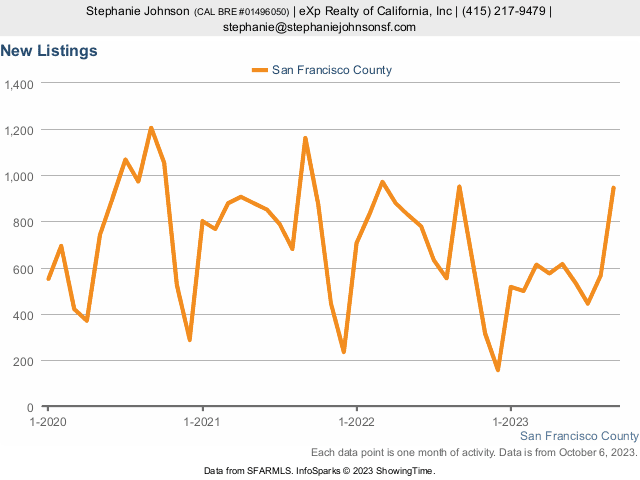 Months Supply of Inventory, San Francisco County (1-4 units)